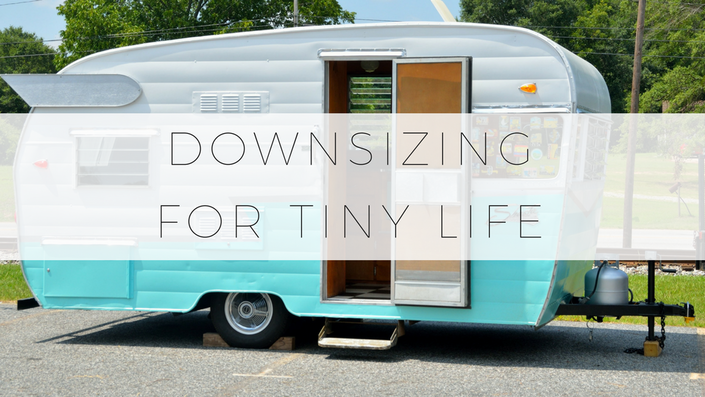 Downsizing for Tiny Life
Step by Step Process for Downsizing to Move Into a Smaller Space
Ready to go from "house full of stuff" to "life full of adventure"?
You close your eyes and see yourself outside of your RV or van, roasting marshmallows under the stars... bound for new horizons, without a care in the world… ahhh...
Then you open your eyes, take a look around, and realize that to get there, you're going to need to get rid of a lot of crap...
Maybe you've already busted out the trash bags and plastic bins and started downsizing, only to get completely overwhelmed.
You know you can't take it all with you, but where do you even start?
After all, you have a lifetime of things… of memories…
How do you decide what stays and what goes? And what exactly do you do with it all once you decide?
Trust me. I get it.
In 2010, I was working a stressful job that I hated... I was unhealthy, both physically and mentally. I knew I needed a change. A drastic one.


After much soul-searching, my wife and I decided to move onto a sailboat and go cruising.


We were allured by the dream – but the reality of knowing we needed to downsize from our Nashville home felt daunting.


What the hell was I going to do with 20 years worth of instruments and memorabilia from my music career?


Where would we put our art?


What about all the stuff we spent so much money on...
stuff that we loved?


But we knew we needed to be ruthless in the pursuit of our dream life.


And the reality was, our "stuff" only added to our stress. It was keeping us from sailing away.


So it had to go.
"When everything is precious, nothing is precious." -Andrew Mellen
We created a process for downsizing that was both ruthless and realistic.


A process that taught us how to "let go" of our emotional attachment to things that no longer fit in our new life.


In the end, we were left with two groups of items:


1) Things that we took with us to the boat (some necessary, some items we loved)


2) Items that we truly loved and cherished...


What we didn't keep were things that were replaceable.


And here's a secret...


Almost everything is replaceable.
This course includes:
Resource Library
Private Facebook Group
Downsizing For Tiny Life will show you...
How to immediately identify what can be thrown away without guesswork or thought. Just toss it!
How to change your "attachment" mindset so you can confidently assess what items no longer fit into your life, and how to respectfully (and willingly) let them go.
What to do with the big-ticket items that you spent so much money on (this tip alone could save you over $1,000 per year!).
The secrets to successfully selling your stuff (and making way more than you would have without them).
How to manage your digital assets (just because they aren't taking up physical room doesn't mean they're not taking up mental energy!).
This course could pay for itself in 1 month, just based on what you could save on storage units alone!
Let's take a look at what you'll learn in each of the 4 modules:
Module 1: In this module, we go after the low-hanging fruit -- the obvious junk. There should be little or no pain here. Chris will take you room by room to jumpstart your downsizing process. You'll also get downloadable resources which can be used through the entire course.
Module 2: In module 2, things get a little more serious. You'll go after items that are not so easy to downsize. This is where you choose what will go with you into the next phase of your life.
Module 3: This module is all about the "Sell." Learn the secrets to getting more money for your items by taking photos and writing listings that get clicked and translate to higher-dollar sales. You'll also learn the ins and outs of an estate sale (and what you should do if you're considering one). This is the module where all of their hard work starts to literally pay off.
Module 4: The final module is all about making the most of the virtual world. Clutter is clutter, no matter if it's on your desktop or in your garage. This module will walk you through managing and organizing digital records. You'll also learn about things like how to get mail anywhere in the world, and several options to maximize your time, digitize your files, and reduce distractions as you head into your less cluttered life.
We wrap it all up by giving you valuable tips, skills, and tangible resources that you can continue to use throughout your downsizing adventure and beyond.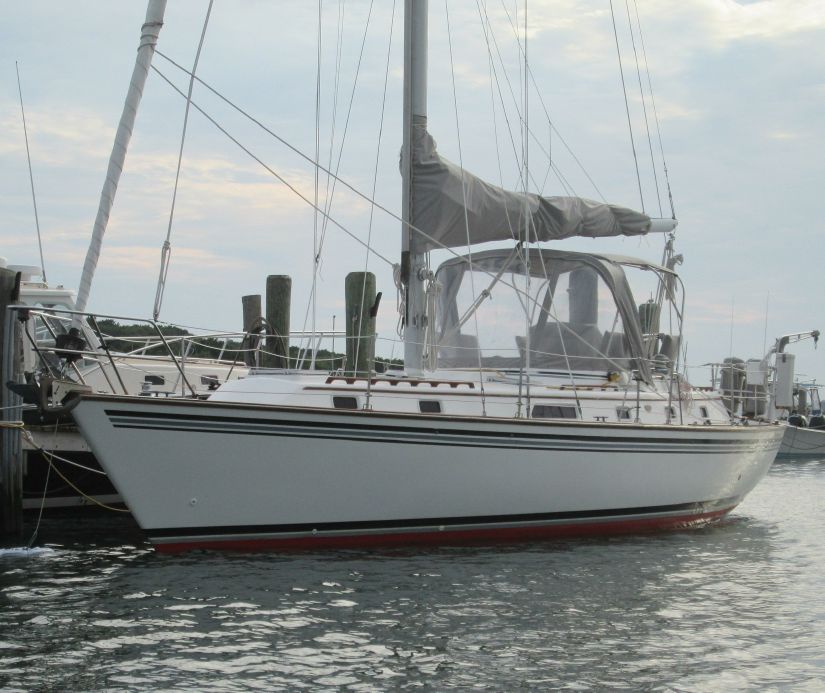 "This course is in a fun and easy style... Downsizing ain't fun, and having what feels like a friend to cheer you on and joke around with you makes it much easier!
- Kathlyn L.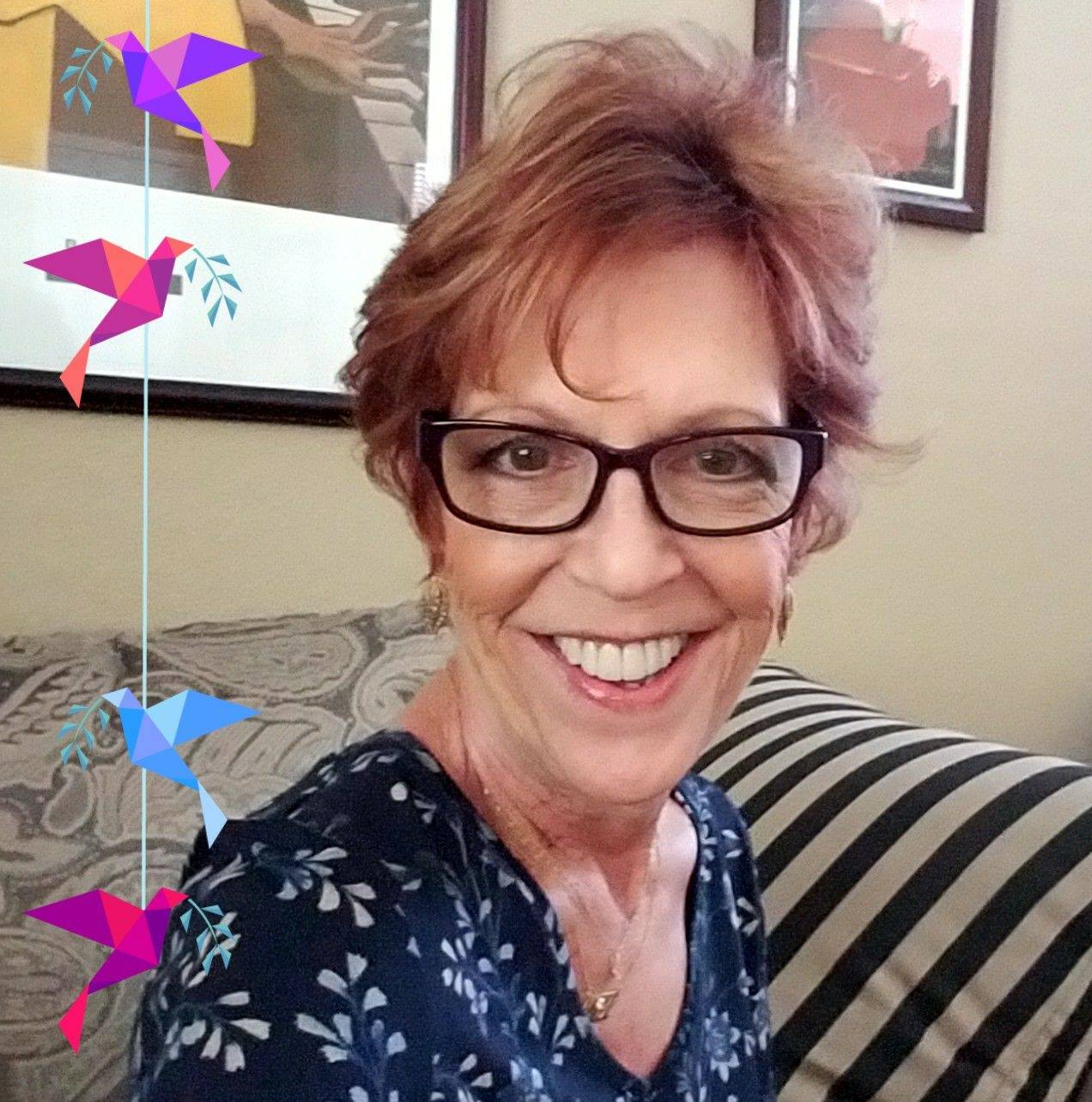 "Great job in putting together suggestions, cohesive lists, plans of actions and other ideas to help us through this time after years of antiquing/collecting and holding on to all those tchotchkes we hold near & dear! Sure did put me in a "detached" state of mind and made 30+ years of downsizing easier than I ever thought possible. Much thanks & highly recommend!"
- Jill Wylly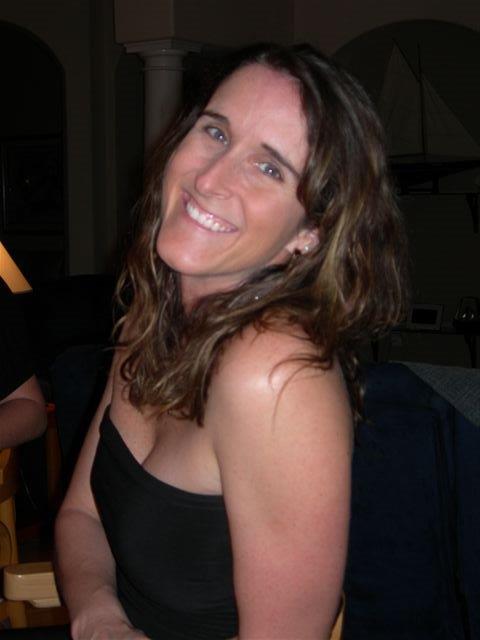 "I took Chris' course and loved it! His witty humor and writing style helps take you step by step through what is otherwise a painful process and makes it simple and effective. I'm going to be going through it again in a month as I downsize (for the 2nd time) as I prepare to move aboard my sailboat! Thanks for a great tool!"
- Cheryl Fuhs
Imagine what your life could look like...
You're that much closer to your dream of living on a boat and experiencing a new way of life
You've changed your relationship with stuff, so you're no longer held captive by the things you own
You have the satisfaction of knowing that what remains are the things you use or absolutely love
You have more money to save or invest
You're surrounded by like-minded people who understand what it's like to live simply
You wake up each morning… on the water… and pinch yourself because you can't believe this is your life
This course is for you if:
You dream of traveling and know you need to downsize, but you don't know where to start

You feel overwhelmed when you look at all of your stuff

You have sentimental and valuable items and you don't know how you'll be able to part with them

You have a storage unit full of stuff
This course is not for you if:
You aren't willing to change your mindset and your relationship with your stuff

You're not willing to put in the work – downsizing requires effort

You've already downsized enough to live comfortably in a smaller space. Congratulations! You do not need this course! Now get off this page and go adventuring!
Hi! I'm Chris.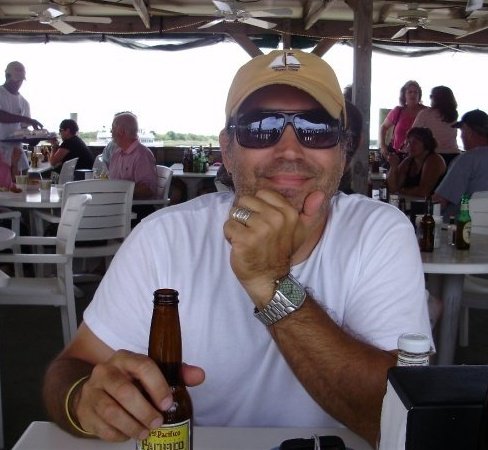 I believe you need less stuff than you think to be happy.
How do I know? Because I've done it.
In 2012, my wife and I went from an 1,100 square foot house (with a guest house + storage shed) to a 35-foot sailboat… and still have empty space on the boat!
We've been cruising and traveling comfortably – not wanting for more stuff or a bigger boat.
And we did it all without resorting to extreme minimalism or sacrificing the things we loved.
I created this course so I could share our system with you – to help you take action on this giant leap toward your dream of a more simple life.
Frequently Asked Questions
How long do I have access to the course?
After enrolling, you have lifetime access to this course for as long as you like - across any and all devices you own.
How long will this course take?
Because you get LIFETIME access, you can take as long as you need. You can go all in at once, or take your time. Every person's situation is different. The main thing is to focus on making progress with each task, because each task will bring you that much closer to your goal. You can even revisit the course later to "re-downsize" as needed.
What if I'm unhappy with the course?
We think this course will give you everything you need to downsize your life. But we understand it's not for everyone. Try the course for a week, and if you don't feel that it will help you with your downsizing journey, contact us at
[email protected]
within 7 days of your purchase and we'll give you your money back.